·
Cafe Founder & VTX lover
Discussion Starter
·
#1
·
Total miles this trip: 667
This was a very fun and well planned trip thanks to MtnCruiser.
We started Friday leaving from Charlotte just a few minutes after 9am heading to Greenville for lunch and meeting with Poolmaster & Otter. Finished lunch right on time and meet MtnCruiser in Walhalla SC for a guided tour into Helen. We arrived in Helen early at around 3:00, checked in and met outt front at 4:00 for a 1.5 hour ride around the mountians.
Friday
on 348:
Overlook on 348...I was suprised at how they had let their overlooks "go" and not kept them up.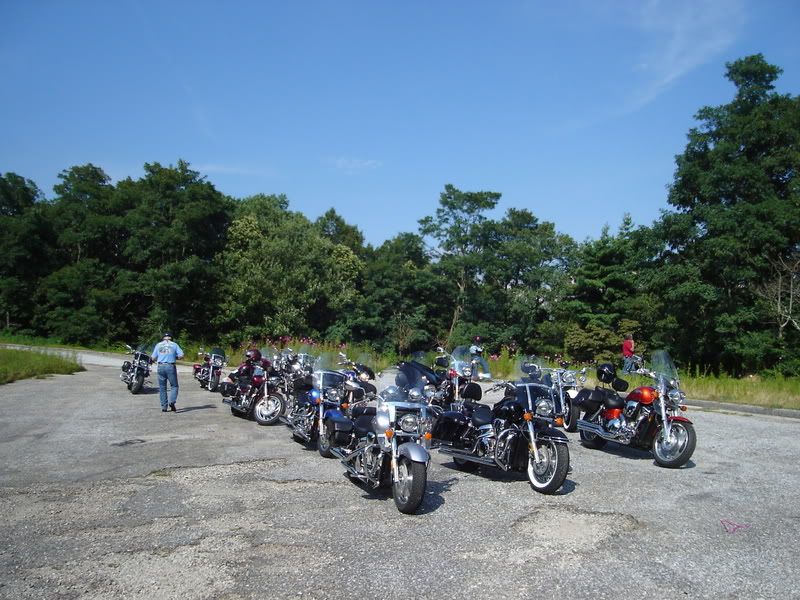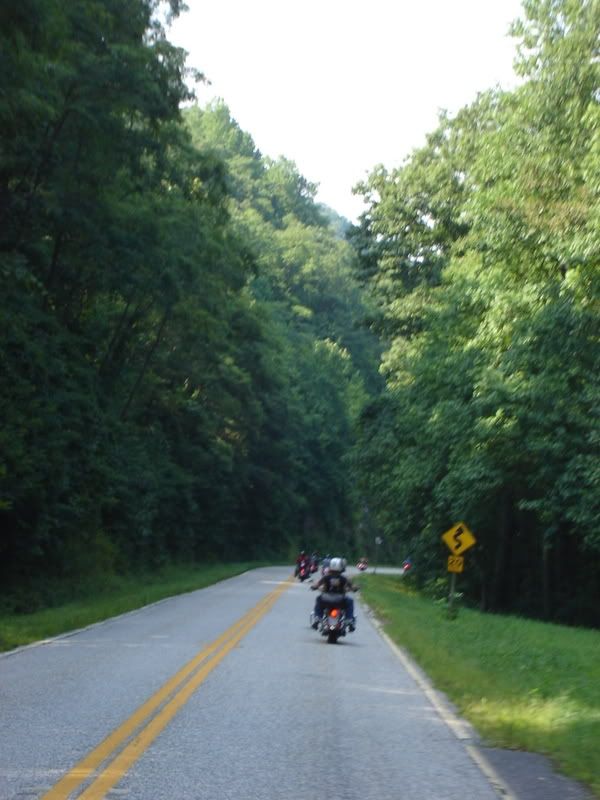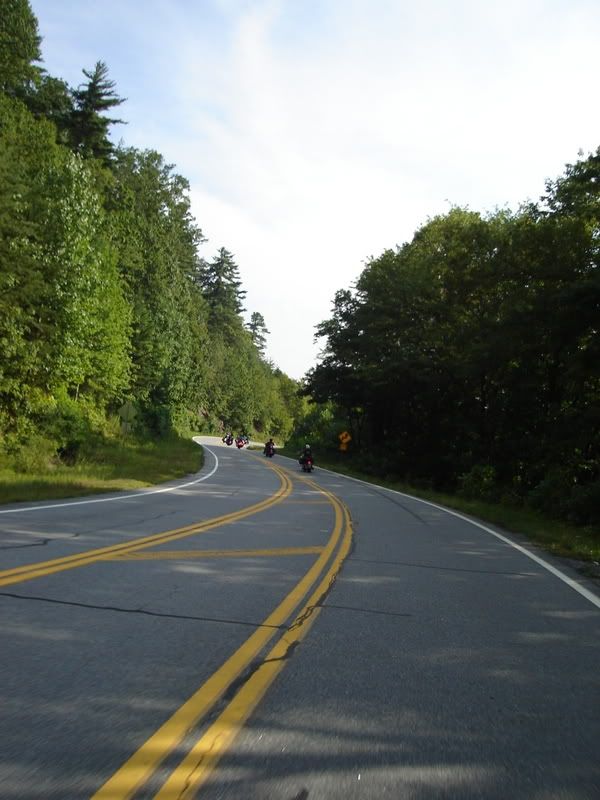 Coming back into Helen Friday evening....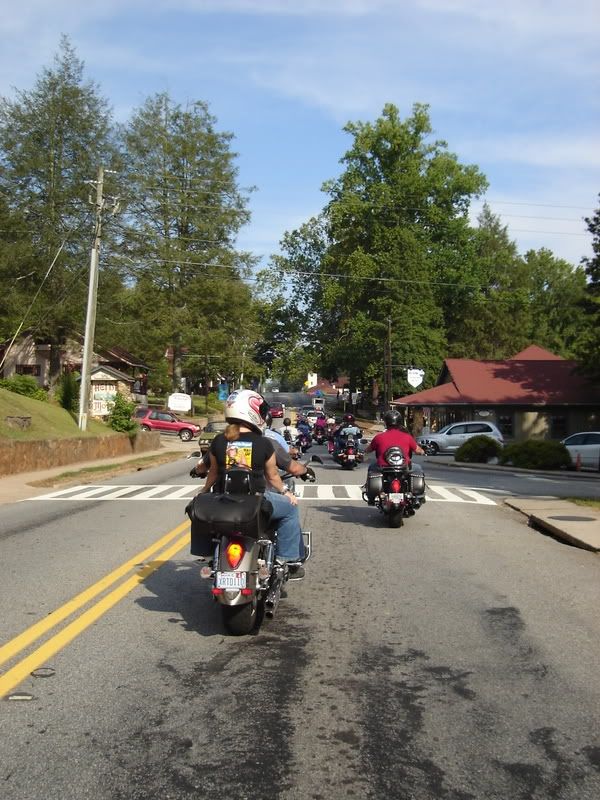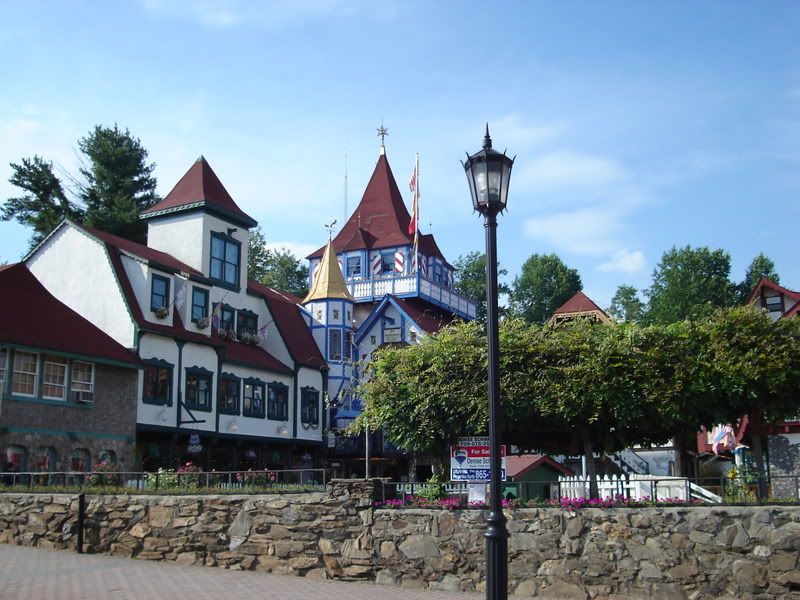 Dinner at Cafe International...the ruben and brats were great, the patio by the creek was nice..
Eric (Otter) & Greg...Eric showing a little love...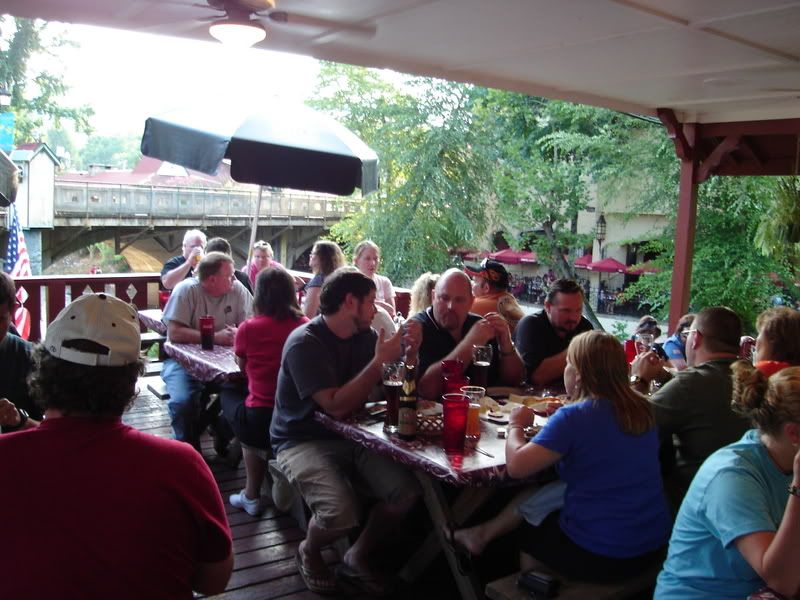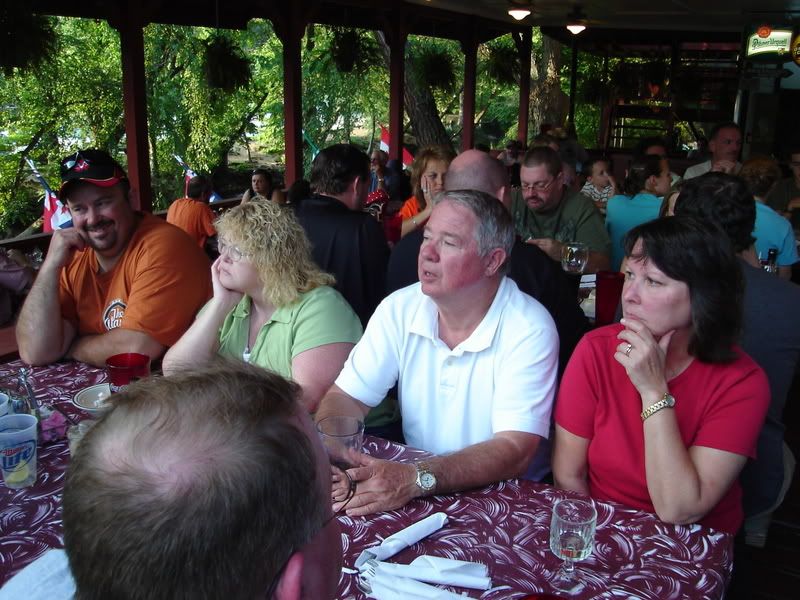 After dinner Friday we went out and checked out the shops then meet at Big Daddy's for a few drinks. The bar was right next to our hotel and was very nice (and smoke free).
Saturday:
After breakfast we met in front of the hotel, Tim (MtnCruiser) had copies of our route for everyone, we went over the plan and headed out just after 9, we finally met up with Al and hit the road for a day of riding. We rode US129, Blood Mtn, Wolf Pen Gap Road which was nice except for the damn Deputy that was behind us the whole way.
At the top of Blood Mtn...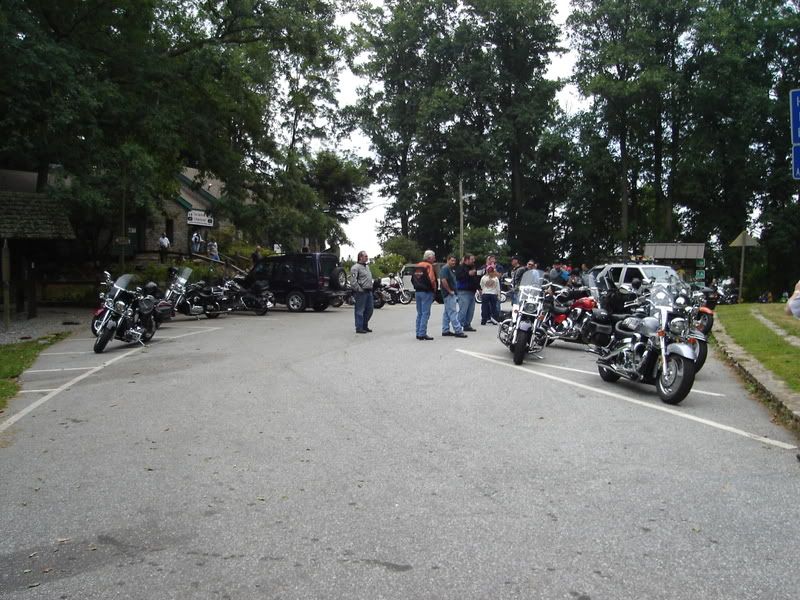 Chicken Rider...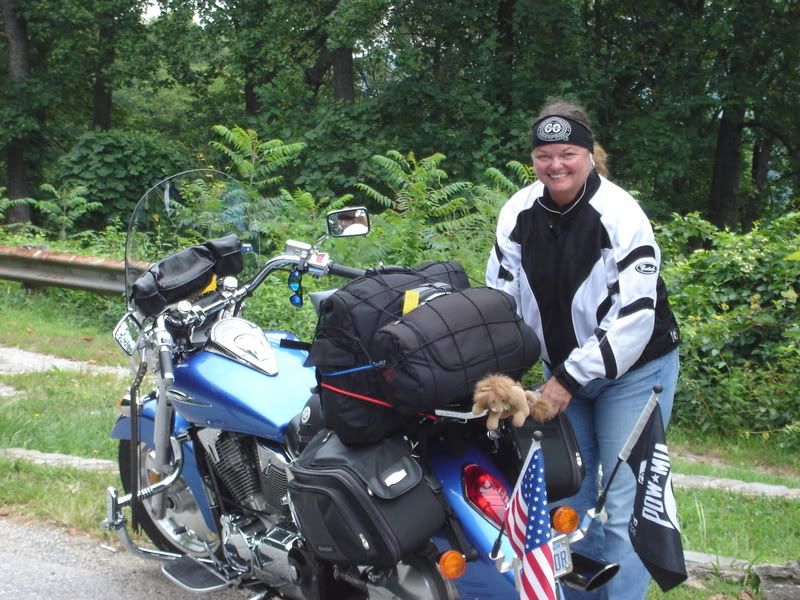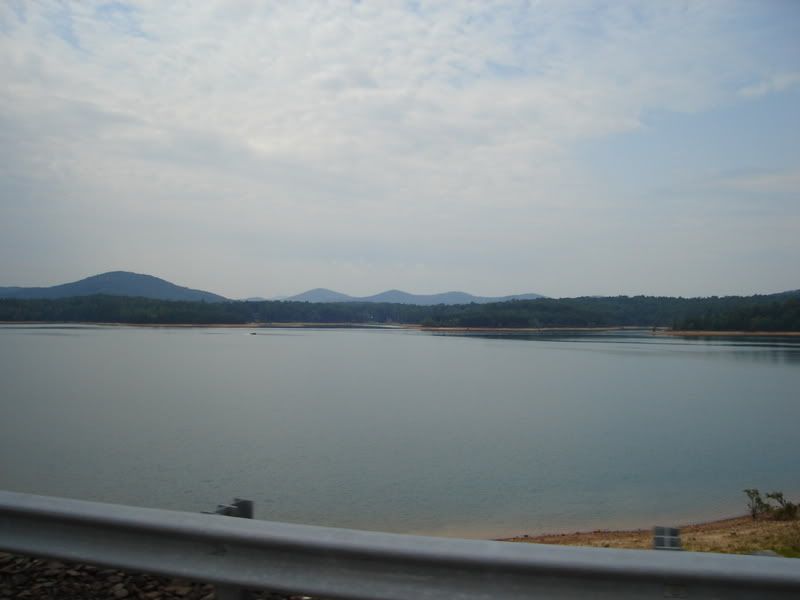 Lunch at Rib Country...
Can anyone spot who ate too much?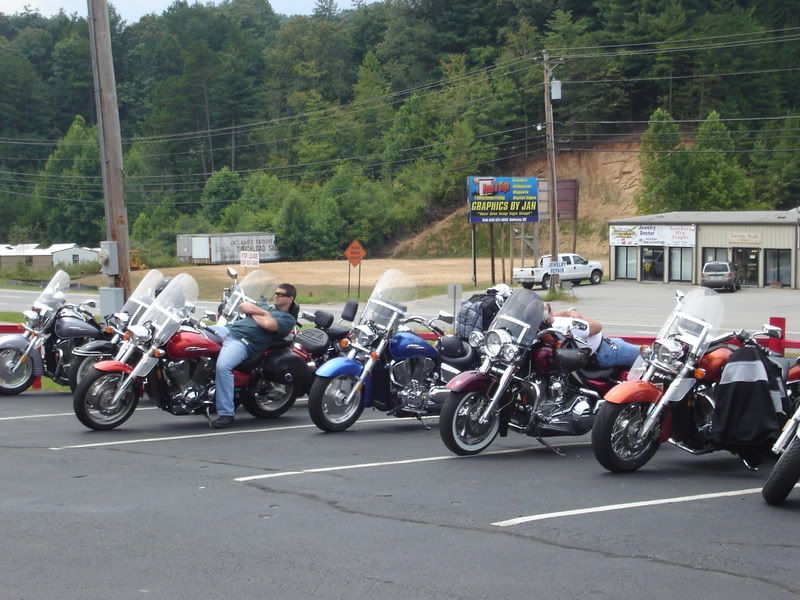 This would be one....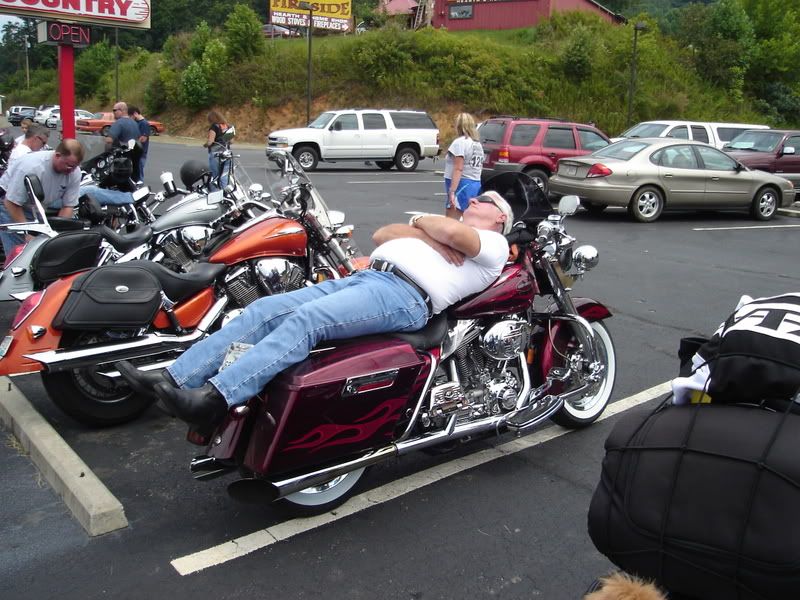 and this would be another....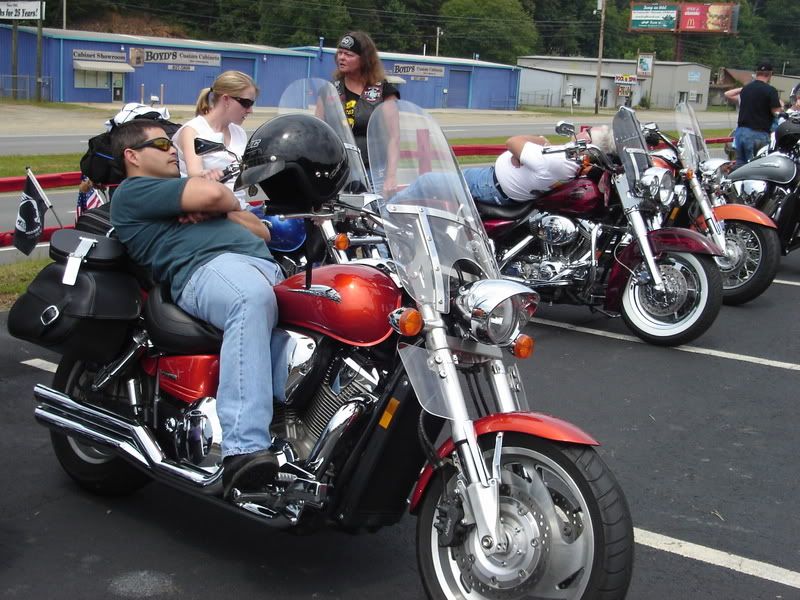 The other photos from Saturday came out blurry so that's it for photos, we didn't even get any photos at dinner.
Oh...dinner, that's another story...LMAO.
We wanted to get back to town by 4:00 so everyone could have a few hours on their own to goof off and go shoping. Our only rian of the weekend came right when we were getting to the fun section of Hwy 17, we stopped and put our rain gear on, I stayed dry but was wishin I hand't removed my windshield on Friday...lol.
For dinner we went to a Mexican resturant next to the hotel. Al Sandoval and Grin1300 provided the entertainment, these two guys together were hilarious. Bonnie thought Grin (Andy) would look great in the big Mexican birthday hat so we arranged for Andy to have a "birthday" (it wasn't his birthday).
Here is a video we shot of Andy's "surprise birthday", as you can see Andy didn't miss a beat...
Part 2
After dinner we were sore from laughing so we asked Andy's wife if he could come out and play a little more and we walked next door to Big Daddy's for a few drinks out on the patio. After a few hours of talking and another round of Al and Andy making us laugh till we were crying we retired for the night.
Sunday:
Sunday everyone started heading home, 10 of us left at 10am for a nice ride around Lake Burton, down warwoman Road (which near the end was great, you could hear floorboards drogging in almost every curve), I drug my exhaust pipes on several curves. We had a great buffet lunch at Aunt Sue's (the only time this weekend I over ate) and headed home. Dave (Dave's World) bough our lunch which was very nice of him to do!
____________
Tim helped plan a excellent route and he did a great job of leading the group, his pace was good and he didn't loose anyone on the ride (we did have 3 of us get behind due to a bathroom emergency) but the group was waiting at our next planned stop. We had several riders who had never rode in the mountains and it was a pace they enjoyed and they even had the priveledge of riding hwy 17's twisty parts in the rain.
We had 20 bikes total I think including 2 Vulcans and 2 Harley's. The trip was uneventful and everyone made it home safe.
I've already been asked about the next one....