This weekend me and my girlfriend decided to attempt our first camping trip on the bike. We decided to do a one night trip to a place close by to test out the concept. We also looked for a place with stores relatively close by, so we went with the approach to pack minimal food and supplies, to keep the packing light, and we would buy what we needed/wanted when we got there. We also planned to share the sleeping bag, which would make things a little interesting. We had a good time and will definitely do it again, but we did find some room for improvement which I will list below. Here's the details:
The items we packed for the trip:
Sleeping bag – measured 18"x10" rolled up
2 man tent – measured 24"x9" folded up
Camping pillow – measured 11"x9"
Towel
Extra clothes (socks, jeans, warm up pants, and shirts)
2 jackets
Cosmetic back with all the overnight goodies
Flip flops (2 pair)
Flashlights
Flask filled with our favorite drink
Plastic knives and forks
We were able to pack all the above items in an army backpack and the two saddlebags.
Bike packed and ready to go:
Once we arrived at our destination we unpacked the bike and setup our site.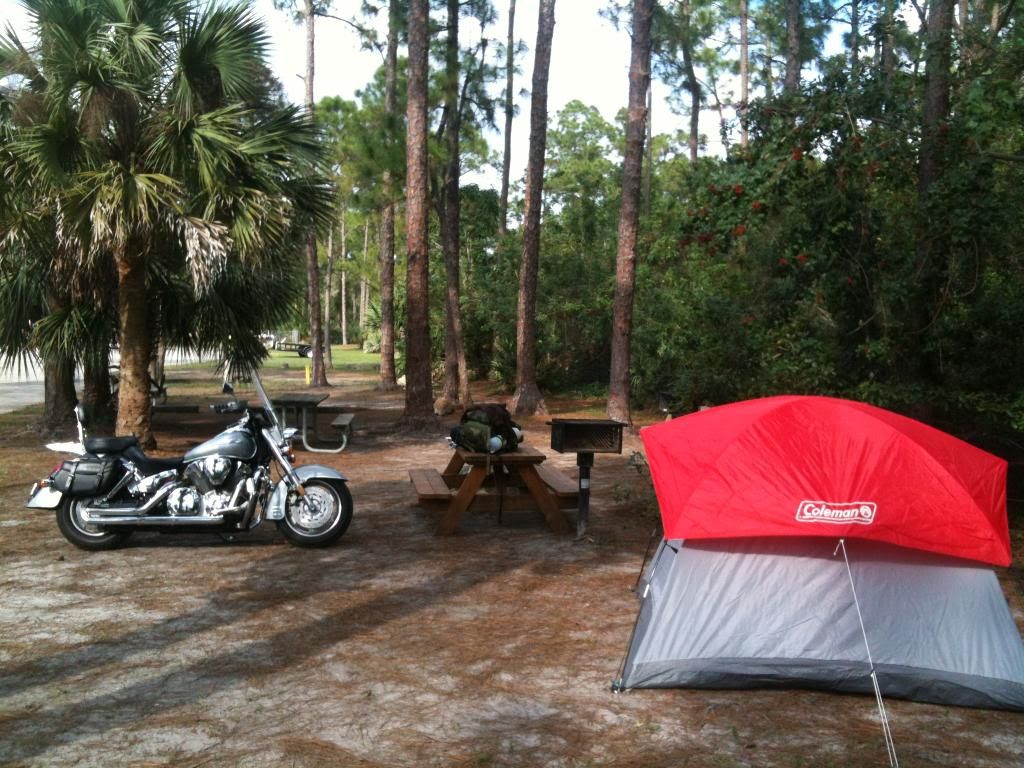 Once we setup our site we decided to go for a ride and get a drink and pick up food and drink for the night. The store was approximately six miles away from the campground. Below is a what we picked up at the store and I listed the items we could have brought with us:
Charcoal
Fire log
Tin foil (could have brought with us)
Plates (could have brought with us)
Lighter (could have brought with us)
Water
Diet Coke
Cups
Collapsible Cooler (bought, but now I have have for future trips)
Pretzels
Macaroni salad
Steaks
Seasoning (could have brought with us)
Ice
Bug spray (we didn't need to use)
The campground we stayed at had grills on each site, so we didn't have to take a disposable grill. Also, if you wanted to go lighter on the food, you could always eat close to where you stay or pick up a sub or food and bring it back to the campground, but that would take some of the fun out of the trip.
We ended up having a great time and survived the night, however there was room for improvement and some items missed. Here they are:
- Air mattress or sleeping pad (the sleeping bag didn't provide much cushion and I'm not as young as I use to be)
- Find a less bulky blanket that can provide warmth if needed
- Try to find a way to include small burner, propane and coffee pot (not a neccesity, but like my coffee in the morning when I wake up)
- No chairs to sit on to relax. Sat at the picnic table, which was ok for one night, but I would miss my folding chairs if I stayed longer.
Now that the first trip is done, it will be time to go on a little longer excursion. Any suggestions for future trips would be appreciated.