Discussion Starter
•
#1
•
In the short time that I have been visiting the Cafe, front end wobble is a recurring thread(especially for the 1300's). I have put together some reasons why this can occur and some solutions. If I've missed something, please let me know.
1. Steering Bearings bad/loose.
(1300's tend to wobble at 35-45mph on decel, also wobbles/feels loose in curves) Change these out with All Balls bearings P/N: AB-22-1020, cost is around $30. For help with the process, check out
www.goheengarage.com
under "tutorials"; or
http://tech.bareasschoppers.com
. There are instructions on how to do this on these sites. Also, tech sessions are held at Cafe members homes and there are riders who have done this many times.
2. Low Tire Pressure.
Check the pressure in your tires regulary. Low tire pressure can cause your bike to handle very awkwardly at slow and high speeds. Most on the Cafe run 38-40psi. Remember changes in the weather/temperature can effect your pressure.
3. Bad/Worn shock bushings.
This can cause wobbling in curves and erratic handling. The parts are inexpensive, easy to replace, and well worth the effort. You can replace them with the Honda bushings, but you will be replacing them often. Most have used bushings from McMaster Carr P/N: 6389K344. If you are unsure how to tell if your bushings are bad, see the photo of bad bushings.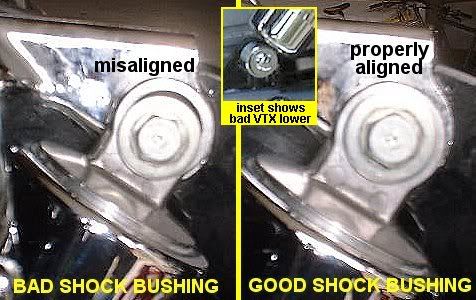 4. Fork Springs.
Fork springs can be weak. Most here will recommend Progressive springs.
www.progressivesuspension.com
For a procedure to change these you can go to
http://tech.bareasschoppers.com
under "suspension".
5. Fork Spring fluid.
Needs to changed/flushed. There are threads on how this helps with the handling of the bike.
www.goheengarage.com
has a video on this procedure.
6. Bent Rim.
This can cause a "lobe" effect and excessive tire wear.
7. Improper Tire Balance.
Whether someone did not balance correctly, lost a weight, or dynabeads clumped together due to moisture, improper tire balance can cause a "bounce", "lobe", or "shakes".
8. Bad Tire.
Inspect your tires frequently, it's important for you, and your passenger's, safety. Even new tires can go bad. Tires can also be defective from the factory.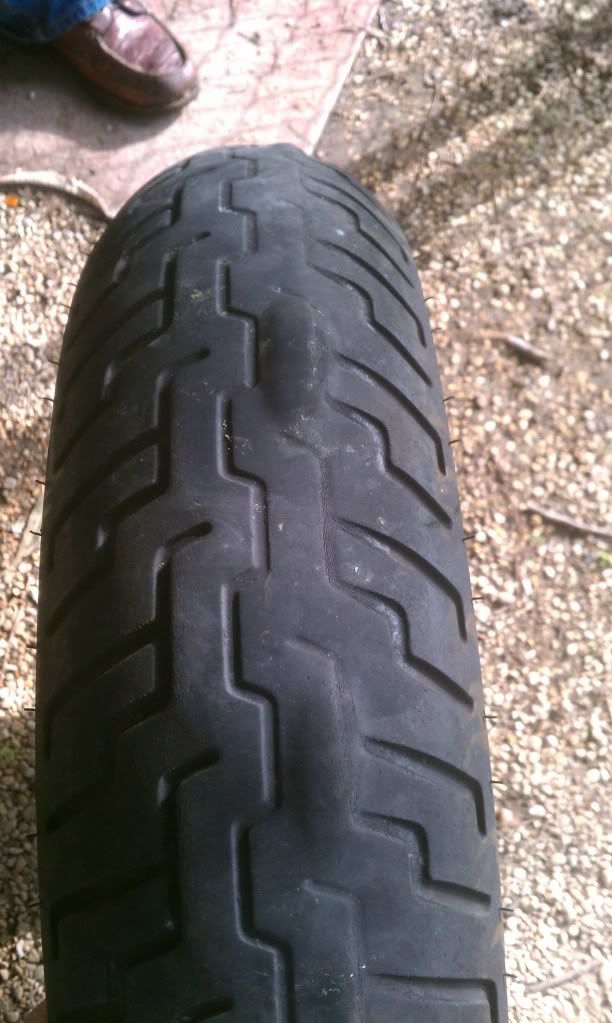 9. Front Fender Bracket.
I read a thread on the cafe where whoever had the bike before had removed this bracket. When the new owner replaced the bracket, the wobble went away. Must help stabilize the front forks.
10. Cracked/Broken Engine Mounts.
Goes without saying, when you have power of a VTX, there is a lot of torque going on. If your motor mounts are bad something is going to move.
11. Front Wheel Bearings bad.
This should be fairly easy to check. Lift the front wheel off of the ground and spin the wheel. Wheel should turn freely and have no noise (grinding/rubbing). Wheel should not move from side to side, or "jiggle" on the shaft. If in doubt, change 'em out. Bearings are cheap compared to headaches, repairs, and accidents.
12. Bent axle.
Without the proper equipment and know how, the best thing to do would be take the shaft to a local machine shop and let them check it. There is a procedure in the manual. This is why you check your wheel bearings to prevent damage to the shaft.
13. Mods.
Pay attention to mods such as: windshields, batwings, lowers, etc. that could change the aerodynamics of your bike. If you get a wobble after a mod, remove the mod and see if the wobble goes away.
14. Rear shock setting."Soft"/ lower settings can cause wobble in turns. Adjust shocks to get a stiffer ride, especially in the twisties.15. Alcohol.
Been known to cause alot of wobbling.......Don't Drink and Ride!!