Discussion Starter
·
#1
·
As some of you know, last year I installed a fairing on my wife's VStar950T. It was one from EBay that I modified to fit her Yammi. Needless to say I made my wife very happy, she not only has a unique bike but a stereo with 2 6x9 speakers. Here is where the problem begins.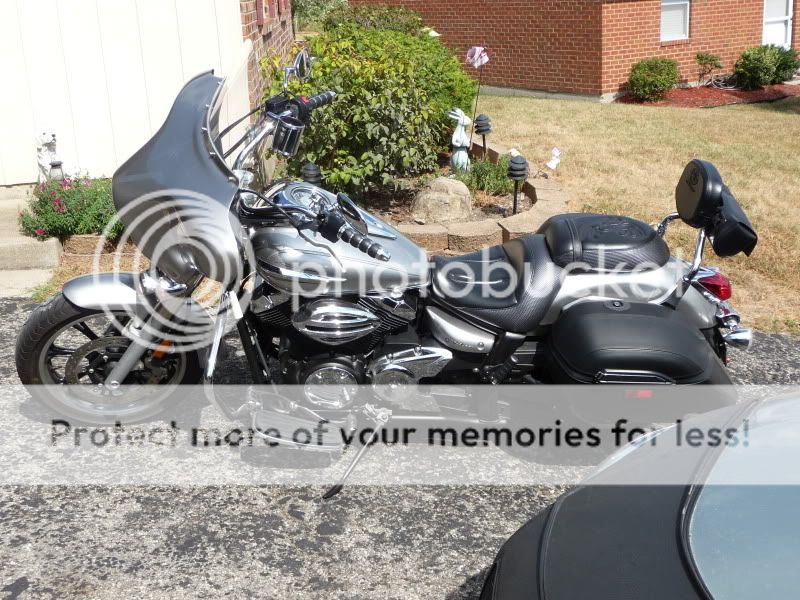 As of last weekend I have put 3 different head units into this fairing. Each a different brand and progressively better quality. This last unit I installed is a Kenwood. The problem is, as she is riding the stereo shuts off.
With the first unit (a cheap Pyle brand) I just figured it was a cheapo radio. So I installed a Sony. It worked for about a month and we got caught in a rain and it went out. (This was before I did the rainshield inside the fairing per Stump's suggestion.)
I found some blown fuses and the radio seemed to work. What I didn't know is that it was cutting in and out. J finally told me what it was doing so I started investigating. I noticed that if I tapped on the fairing nose the stereo would drop out. So I figured the Head unit was damaged from the exposure to water and ordered her a new Kenwood unit.
I installed the unit and tested it each step of the assembly and reassembly of the fairing. Got it all buttoned up and the unit worked. So being the good husband I took the bike for a test ride to make sure the radio stayed on (also gave me an excuse to ride her scoot
) It worked flawlessly. When I got back home I had her take the bike out for a spin. When she got back she said it was cutting out:banghead::banghead::banghead:
So I got on my bike and followed her having her crank the system up so I could hear when it dropped out. Sure enough it dropped out about a dozen times during the test ride. Didn't matter what the bike was doing, straight smooth road, it would drop out, running over potholes it would keep playing. Stopped at a light it would drop out then come back.
I know a thing or two about electrical and stereo's in particular and this has me a bit stumped. So this weekend I replaced the wiring harness from under the seat all the way to the fairing. When I installed the new Kenwood I replaced all the wiring in the fairing except for the short bit from the 3 pin connector to my terminal block.
After I installed the new cable from the seat to the fairing I had her take it out again. She got back and said it did it at least a dozen times:banghead::banghead::banghead::banghead:. I grab my helmet and off I go, I am really putting her bike thru the paces, hitting every bump I see, dragging her floor boards in aggressive turns, slamming on the brakes, the stereo just keeps playing no problems at all.:nope: Makes absolutely no sense to me. I know it is dropping out on her, I have heard it while following her. I have some spare LED's left over from my Joe Florida kit. I was thinking of opening up the fairing and attaching them to her 2 powers on the radio side and hanging them out of the fairing. Then maybe she could see if the LED's go out when the stereo drops out. If it is a lost power problem.
I am pretty certain I am not loosing ground (only 1 ground for the fairing) because she is not loosing her presets or clock, which tells me she is not loosing the "memory" power.
Only things that have not been replaced are the speakers, the antenna, and the pigtail quick disconnect on the fairing side. Again when the stereo drops out, the entire unit goes dark, not just the loss of sound.
Its almost like J has a charge in her that knocks out the stereo
since it will not drop out for me.
Any of you ever have a ghost problem like this??
Retouch on some of the facts:
No fuses are blowing
Does not seem shock or vibration related
Not related to Handlebar position
So far only happens when she is riding the bike
Retains presets and clock memory
Drops out anywhere from 2 seconds to 10 seconds (on this Kenwood)
Does not seem temperature related (hot or cold it drops out)
Hi/Low beam headlight has no affect
Driving lights on/off no affect
Any thoughts or suggestions are welcome, I don't like seeing my wife unhappy with her scoot, and you all know what happens when momma ain't happy:spank: