Discussion Starter
•
#1
•
Hi All....I thought this might interest some of you in the colder climates. This is how I keep my bike in the winter months....I call it "Near Ready to Ride"....lets face it, here in the north east, for the next few months the riding days are few and far between but they do pop up now and again....so I keep my bike "almost" ready....Here's a pic....cause we all love pics!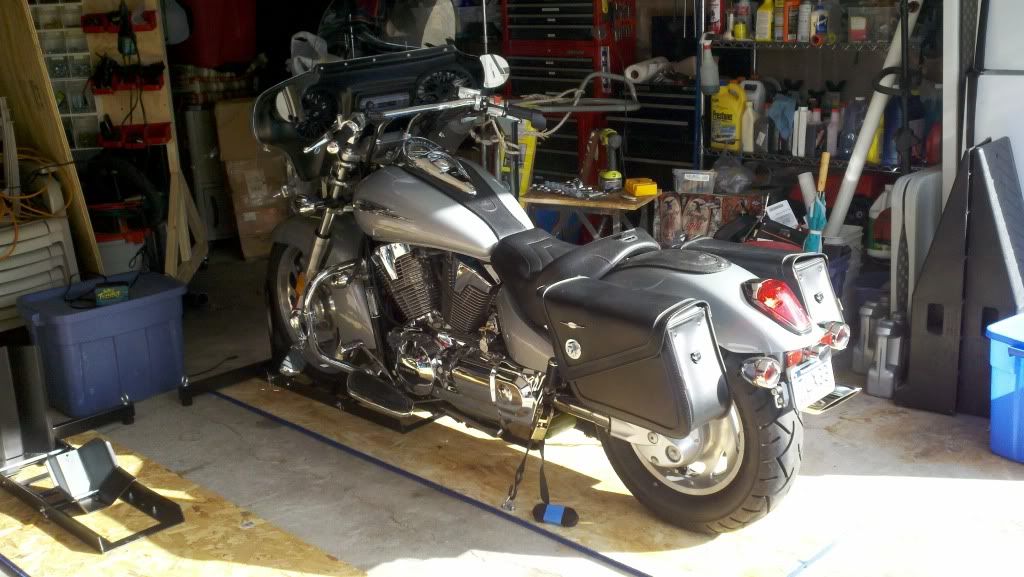 I have a Wheel Chock from Harbor Freight that I have Bolted to a 2'w x 8'L piece of 3/4" plywood. This both keeps her upright and a little insulated from the very cold concrete floor. This can also help some of you save some space in your garage. For an added safety precaution, I bolted some ring eye's near the passenger foot pegs and lightly strapped her down. (just to prevent someone from accidentally falling into her and knocking her down) The straps are not under much strain at all. I also run some Seafoam through the engine and put the battery on a tender, in the bike, through a pigtail connection coming out from the right side cover. This keeps the bike pretty well stored and still pretty available in case a warm day pops up...
The wheel chock from Harbor freight was about 50 bucks, the wood - 20 bucks, the tender - 25, the straps and hardware about - 10, so for a little over a hundred it's not a bad way to store her and keep her available at the same time.
I hope this either helps some others considering storage ideas or sparks a few new ideas...Here are a few more pics...
Joe