Discussion Starter
·
#1
·
I know several others on here have done this, but I thought I'd post it anyway. It may give some people just the encouragement they need to git 'r done! :mosh:
Since I have a ton of stuff off the bike right now, I decided to polish the fins and paint the engine. This is another one of those
"I'm glad I did it and it was worth it, but I'll never do it again"
mods.
I started off by removing the tank, air intake, pipes, upper fin shrouds, clutch cable bracket, carb, manifold and anything else I could get out of the way. To file the fins down, I tried several methods to see which would get the job done the quickest with the best results. First, I tried a Craftsman file, but it was not getting it done quickly. I then got out the palm sander, put 60-grit paper on it and quickly knocked the coating off the fins.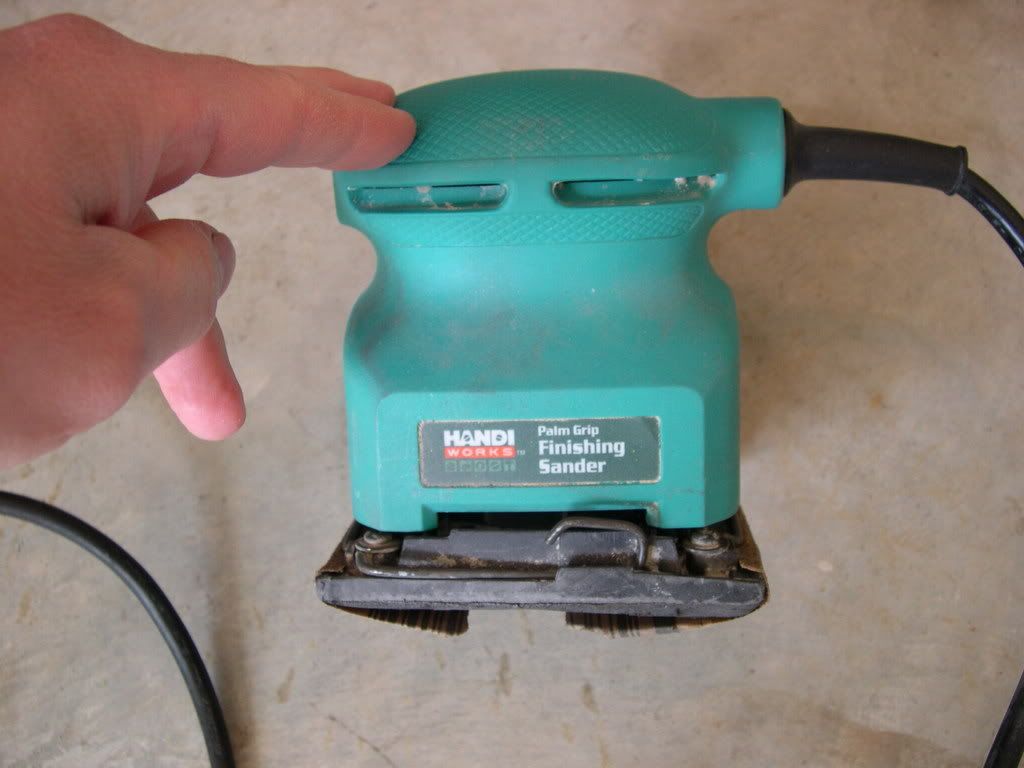 It was too big to get in between, in front of and behind the jugs, so I taped some 60-grit strips of sandpaper to paint sticks (Easy-E's idea) and got the fins sanded down pretty well. Then I just used some bigger strips and hand-sanded those same hard-to-reach areas until I was satisfied.
In this picture, I did the right side of the fins with the palm sander and left the left side alone, so you can see just how well it worked.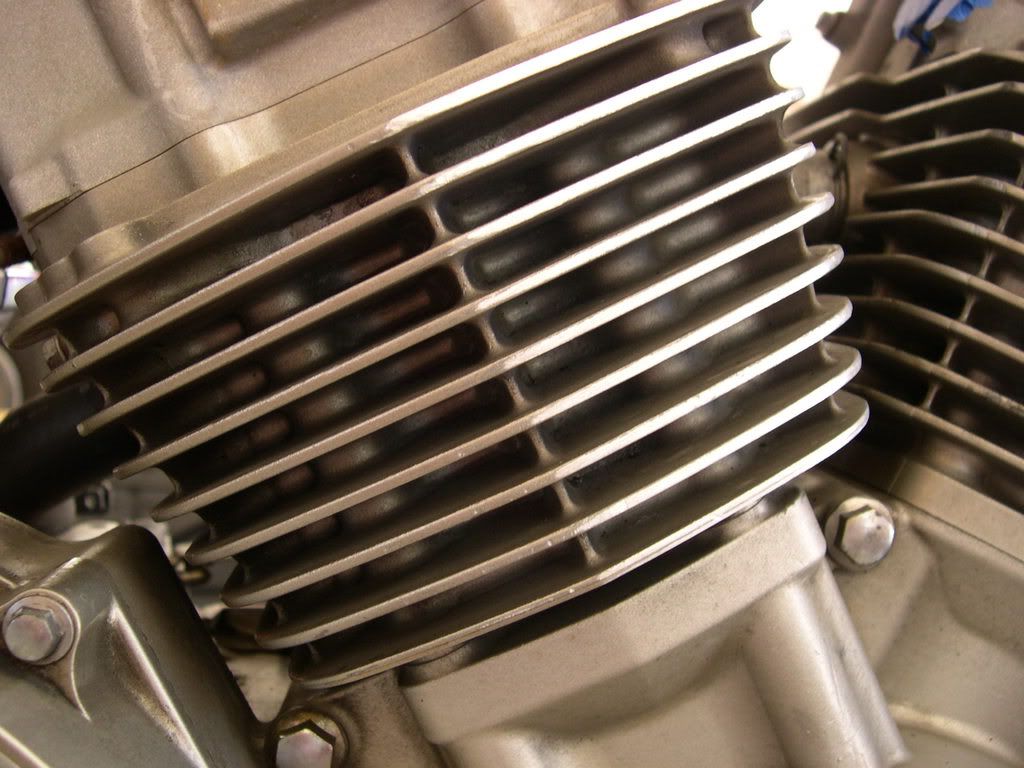 Once I got the fins sanded down really well, I started wet-sanding. This was a very tedious process, but really should be done to get the maximum results of polished fins. I went through the following grades: 220, 320, 400, 600, 800, 1000 & 1500. Once I was done wet-sanding, I got out the Dremel, some polishing pads and some polishing compound and went over each fin until I got the desired look. In this picture, I did the upper fin shroud and put it back on to give you a comparison. The bottom has not been polished.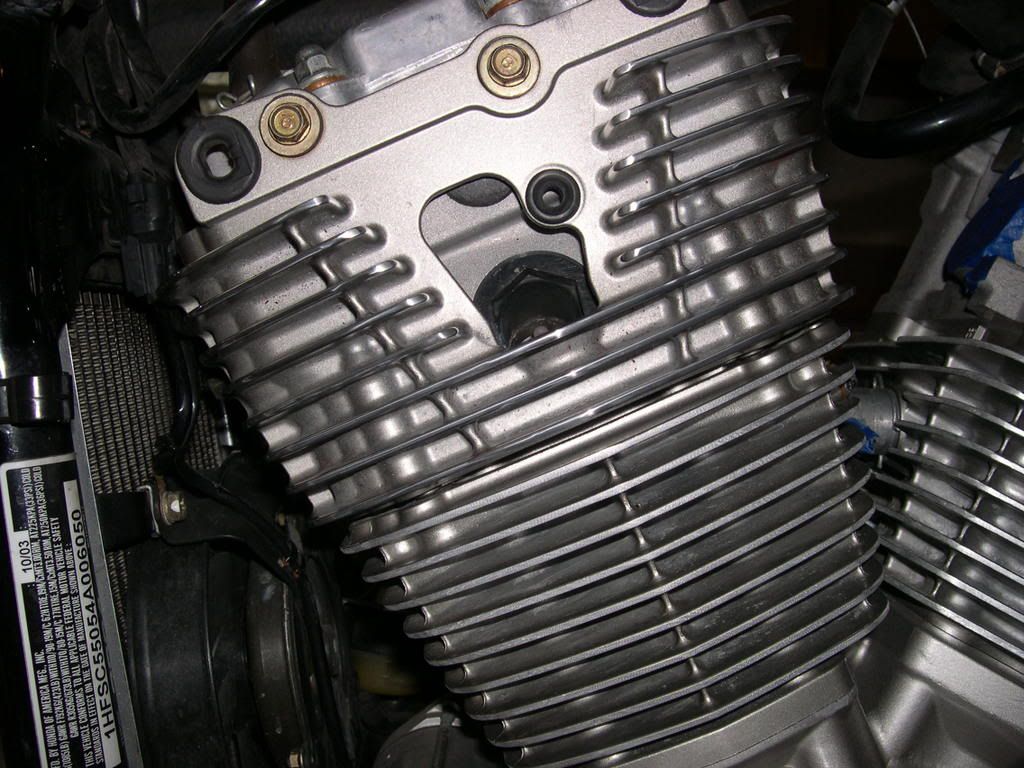 In this picture, I polished the right-side of this shroud. The left side is at the 1500 wet-sand stage, for comparison.
To get to the hard-to-reach fins, I used Nevr-Dull wadding polish and shined up the fins the best that I could.
I painted the shrouds tonight. I soaked all the shrouds in a bucket of dishwashing soap and hot water to break loose the grime. Then I carefully cleaned really well in between all the fins using a sponge. Once I was satisfied they were cleaned well, I scuffed them up with this product from Ace Hardware, which is equivalent to a red Scotch-Brite pad.
Then they were rinsed well and dried using my air compressor. After letting them dry a little longer, I taped off the fins using 1/8" pin striping I bought from AutoZone. It worked perfectly. I also took off all the grommets and used blue painter's tape to cover the rubber nuts so they wouldn't get painted.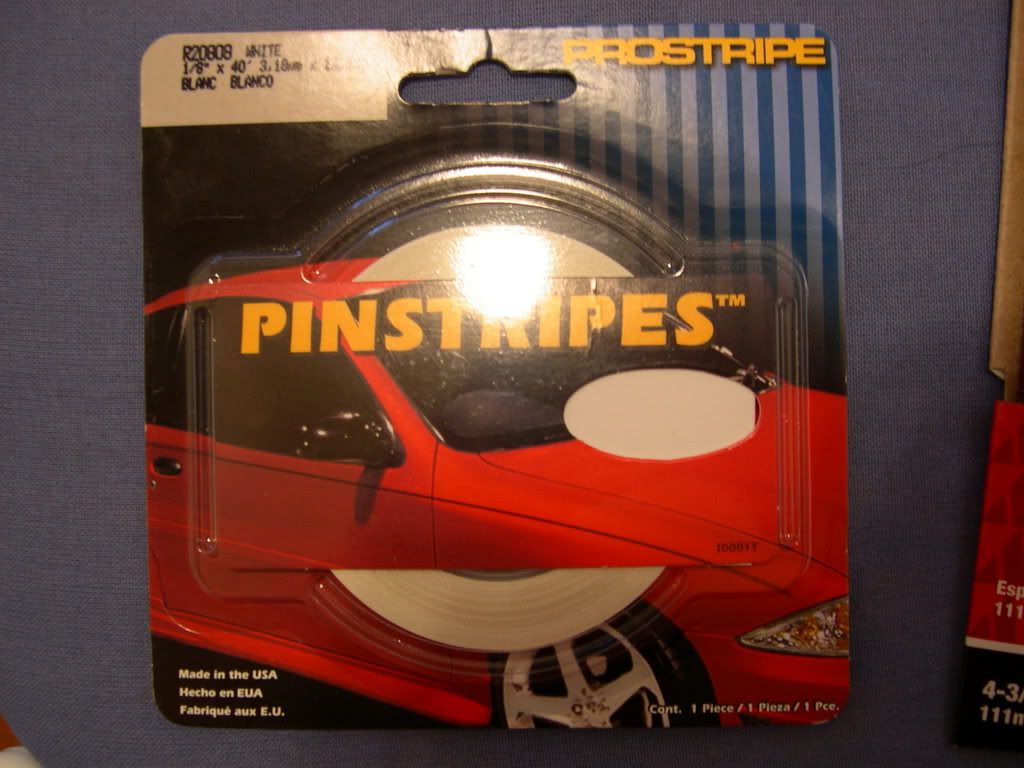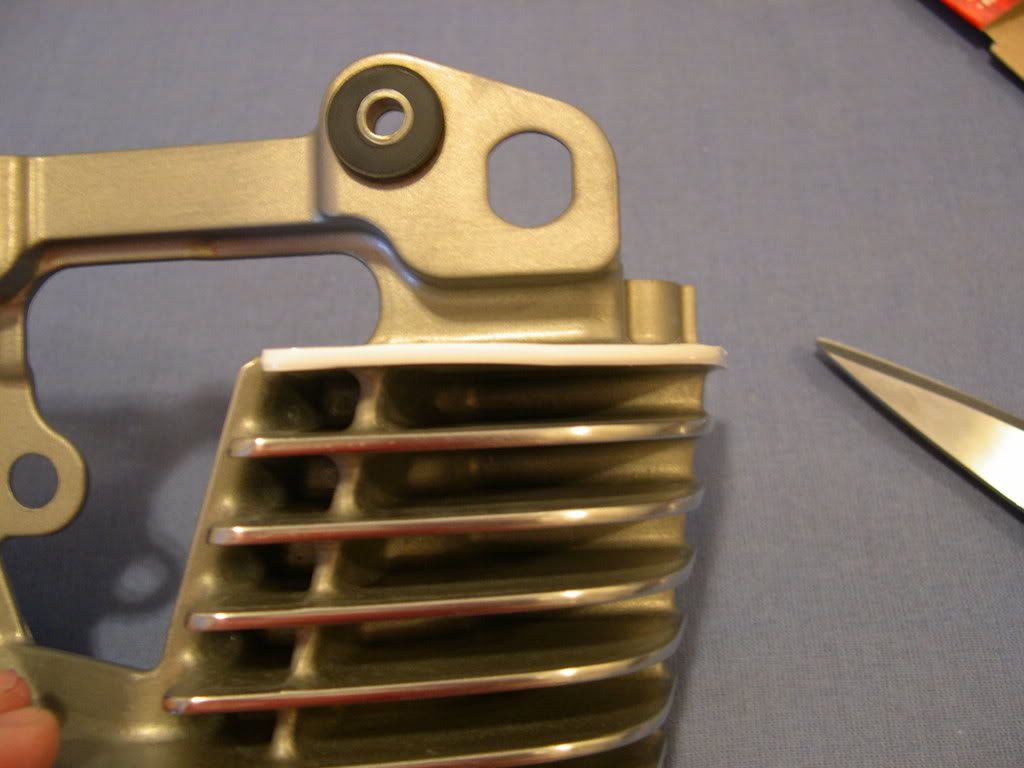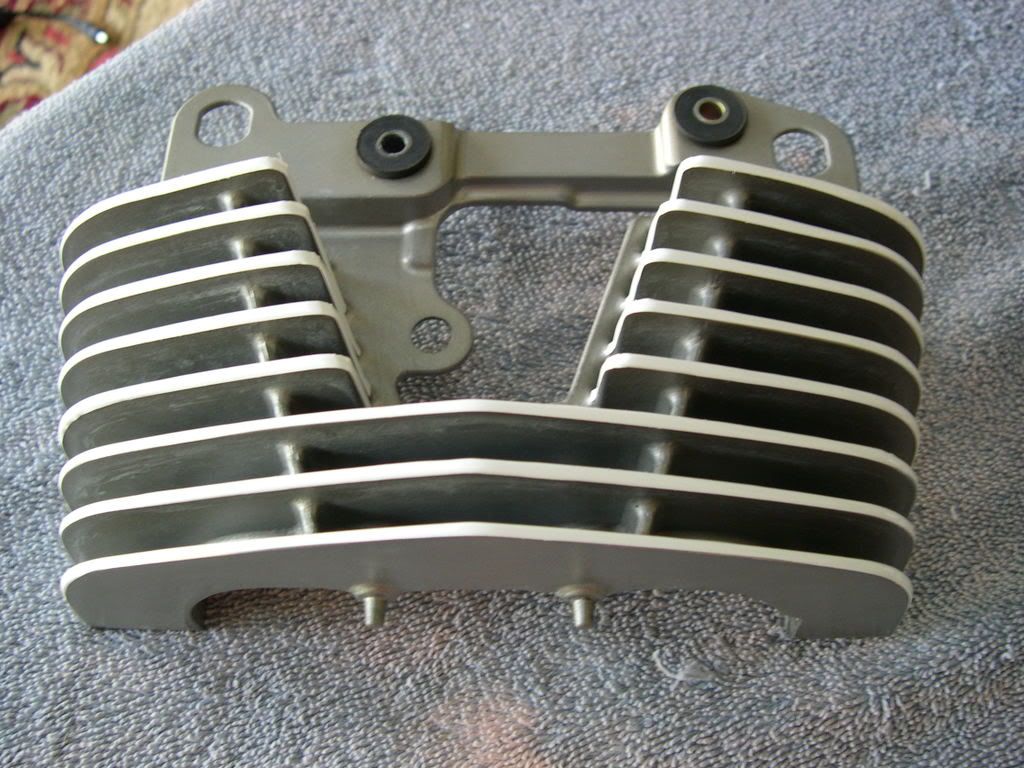 Then I went out to the garage, covered everything with towels, blankets, tarps and anything else I could find so no overspray would get on the bikes or anything else. Then I layed the shrouds down on some cardboard and followed the instructions for the DupliColor Semi-Gloss 500-degree paint. I sprayed two light coats within 10 minutes of each other, and then a third heavier coat. I also used a flashlight and peeked into the spaces in between the fins and sprayed where appropriate for uniform coverage.
After about an hour, they were dry to the touch, so I took them inside, sat down on the couch and started pulling the pinstriping off. As I pulled them off, I got that same _____-eatin' grin like I had the day I brought her home!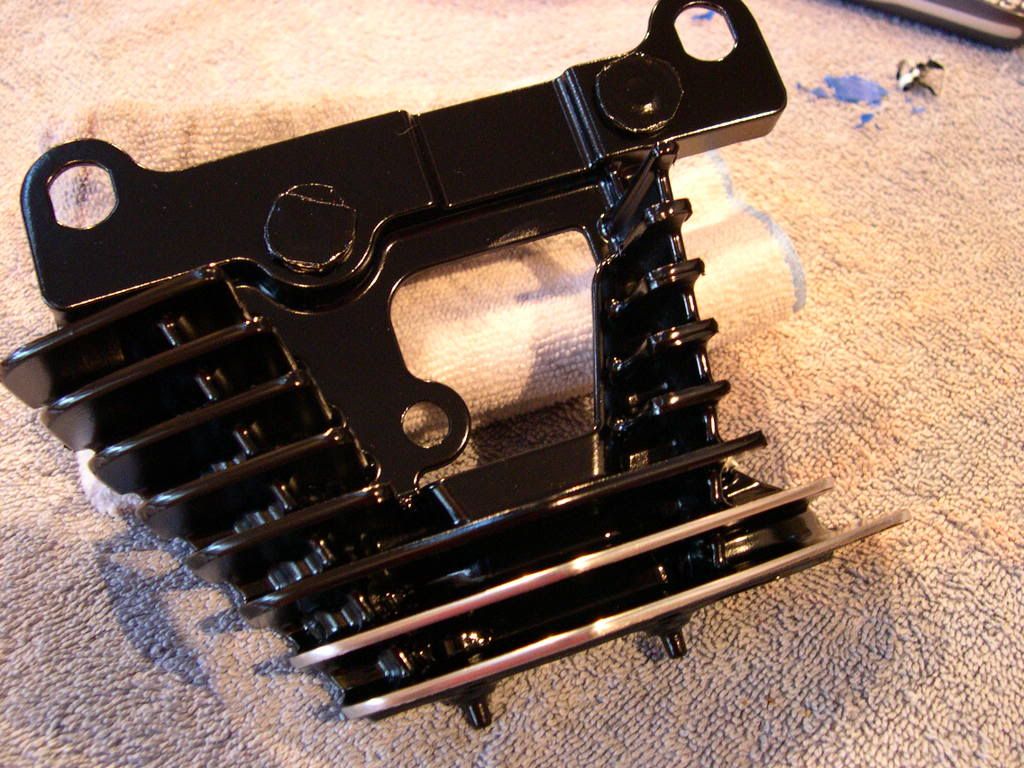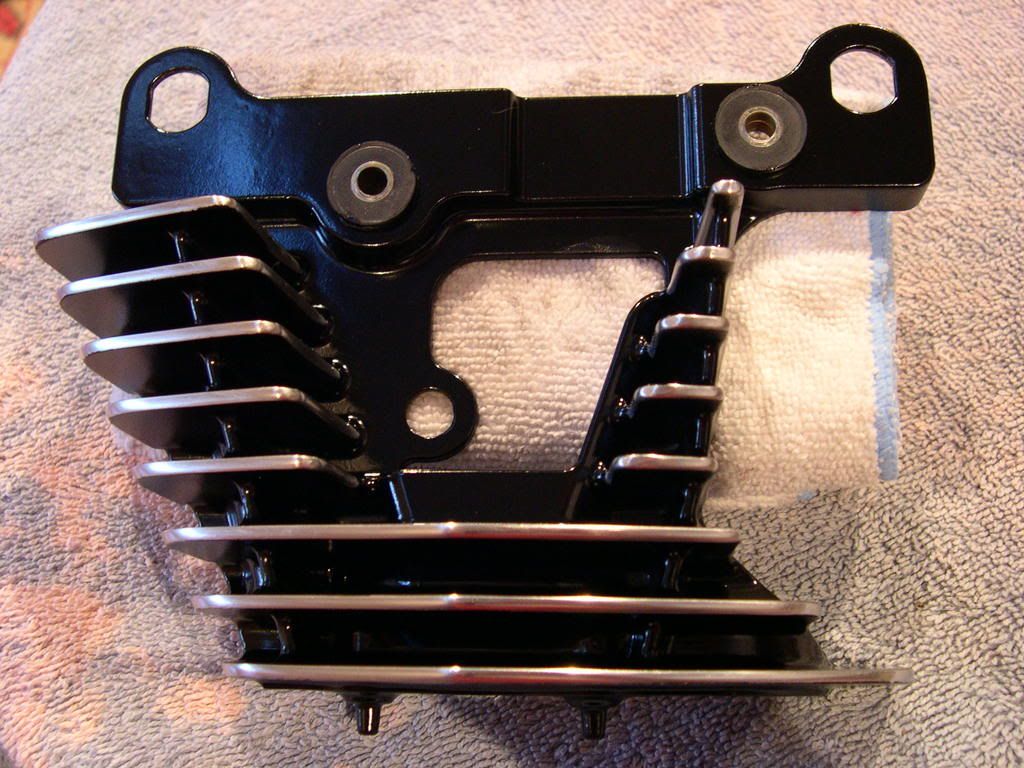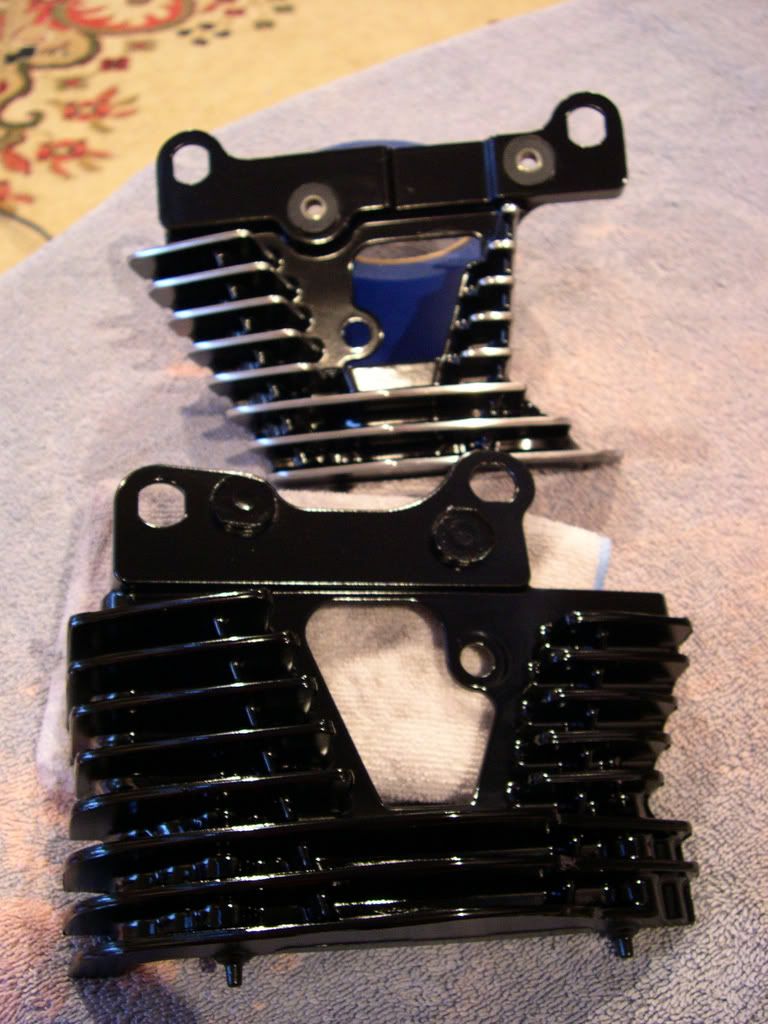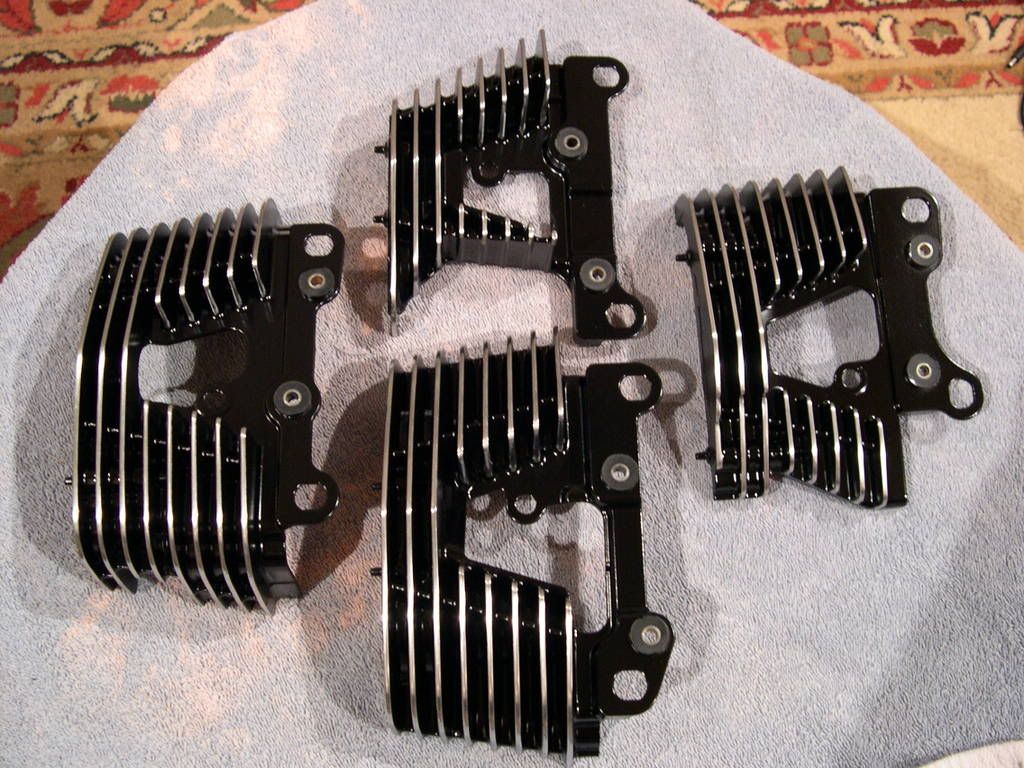 Okay, so here was today's agenda:
* Woke up at 7am ready to rock. Ate breakfast and filled up with caffeine.
* Scrubbed down the entire surface to be painted with the red pad.
* Went back over the fins with Nevr-Dull Wadding Polish.
* Washed the engine with dishwashing soap, hot water and a sponge to get in the nooks and crannies.
* Rinsed engine with fine mist from the water hose and spray nozzle.
* Blew out all the remaining water with the air compressor really well.
* Let engine dry.
* Taped down all exposed threaded holes, exhaust ports, manifold ports, spark plug holes, inlet between jugs and any other place I didn't want paint (used blue painter's tape).
* Pinstriped fins (OMG...I don't care how much money someone would pay me to do this...uh uh...no more!). :banghead:
* Wrapped all other areas with blankets, foil, newspaper...basically anything that did the job well.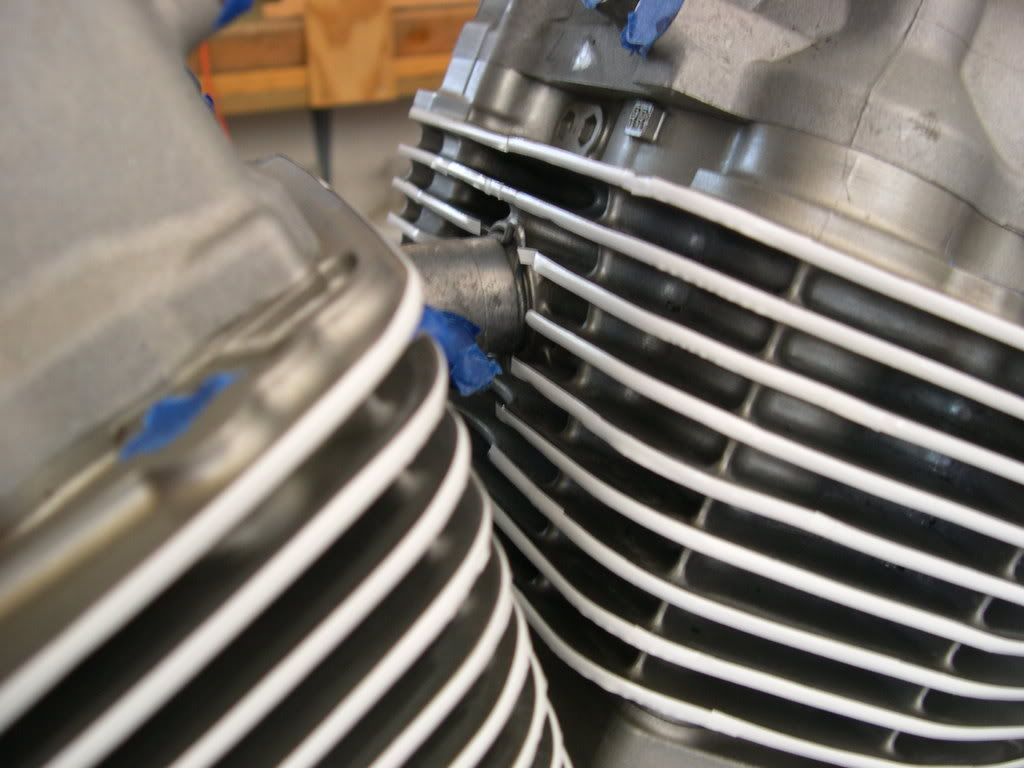 Then it was finally time to spray. I did three coats again, just like I did on the shrouds. I also went back out and touched up areas in between the fins where it needed it. All in all, I almost used 2 full cans of paint!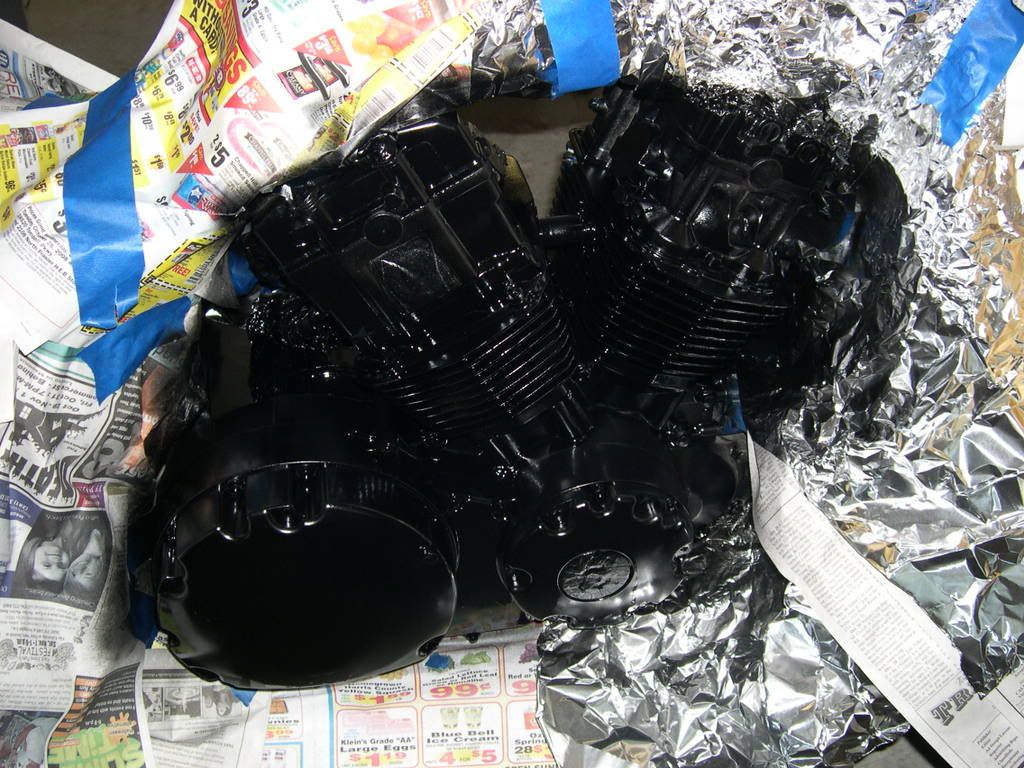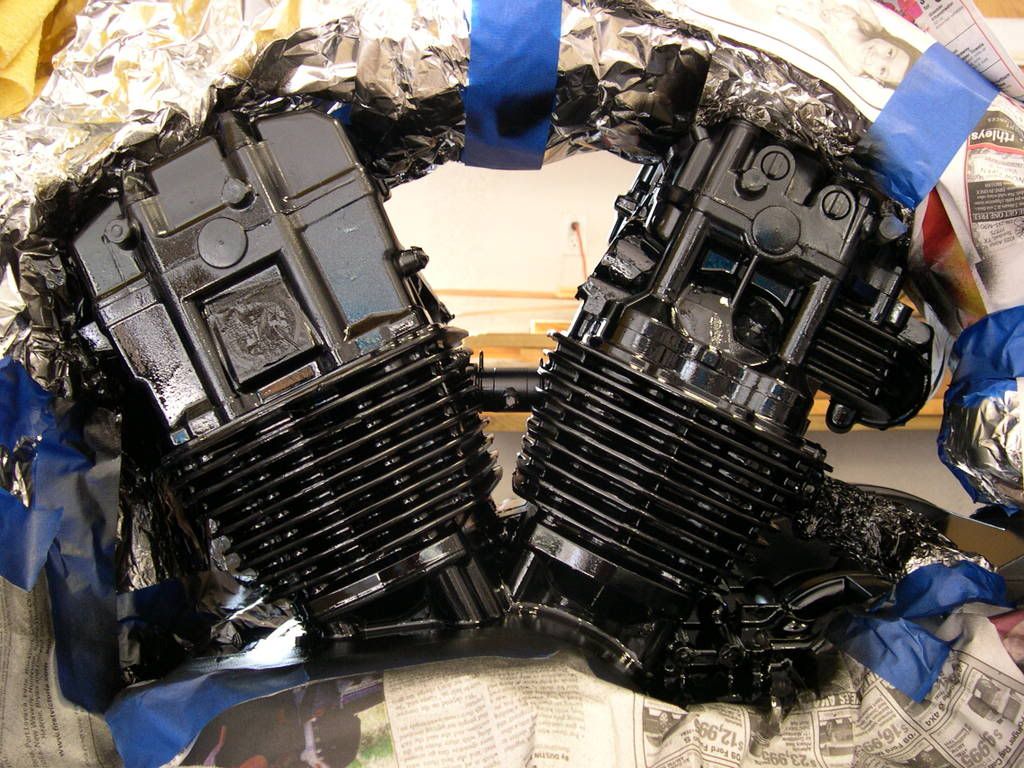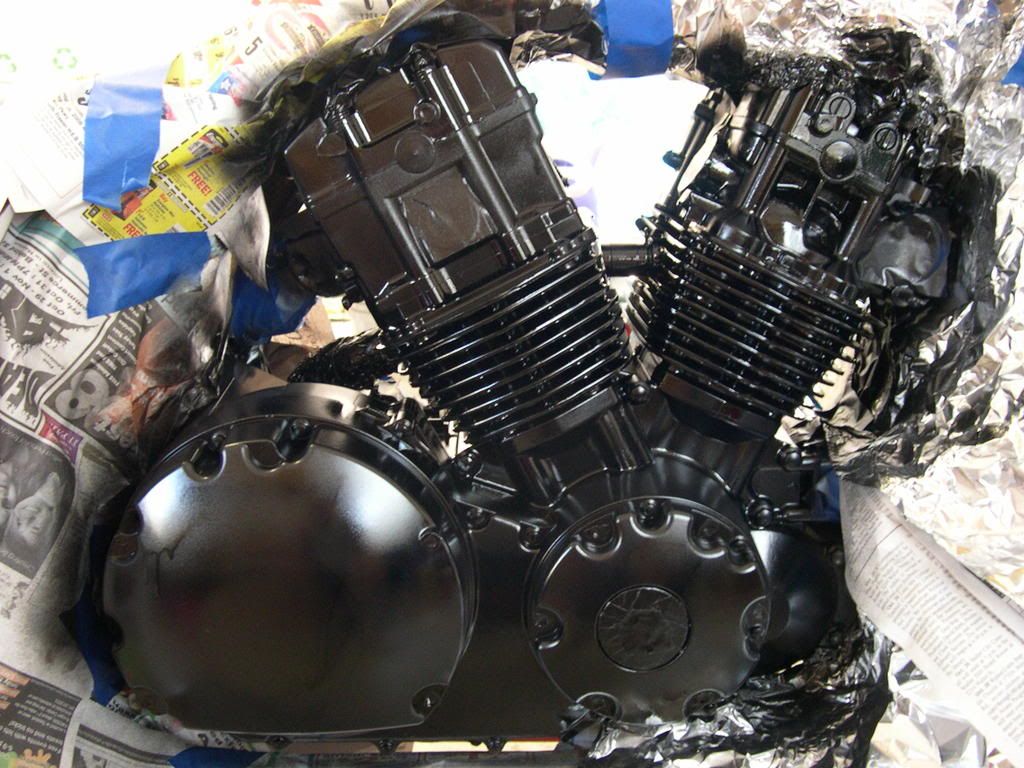 And I'm done!! The bottom fins will need to be touched up a bit from the paint bleeding behind some of the pinstriping, but no big deal. I'll also touch up around the manifold ports, too.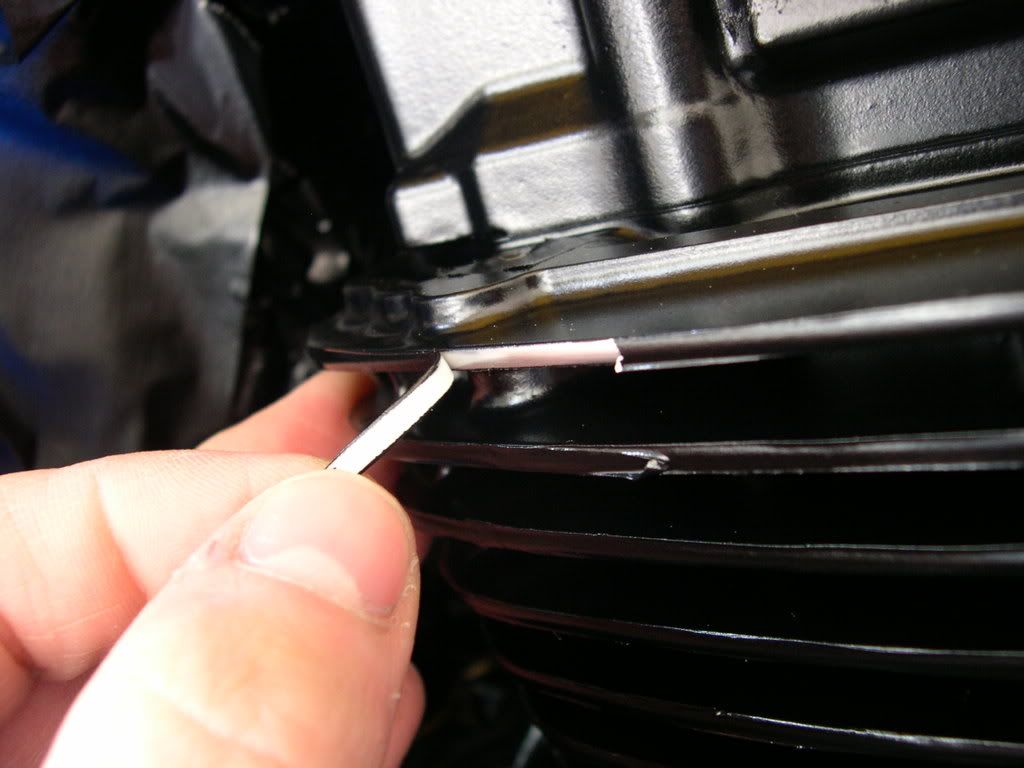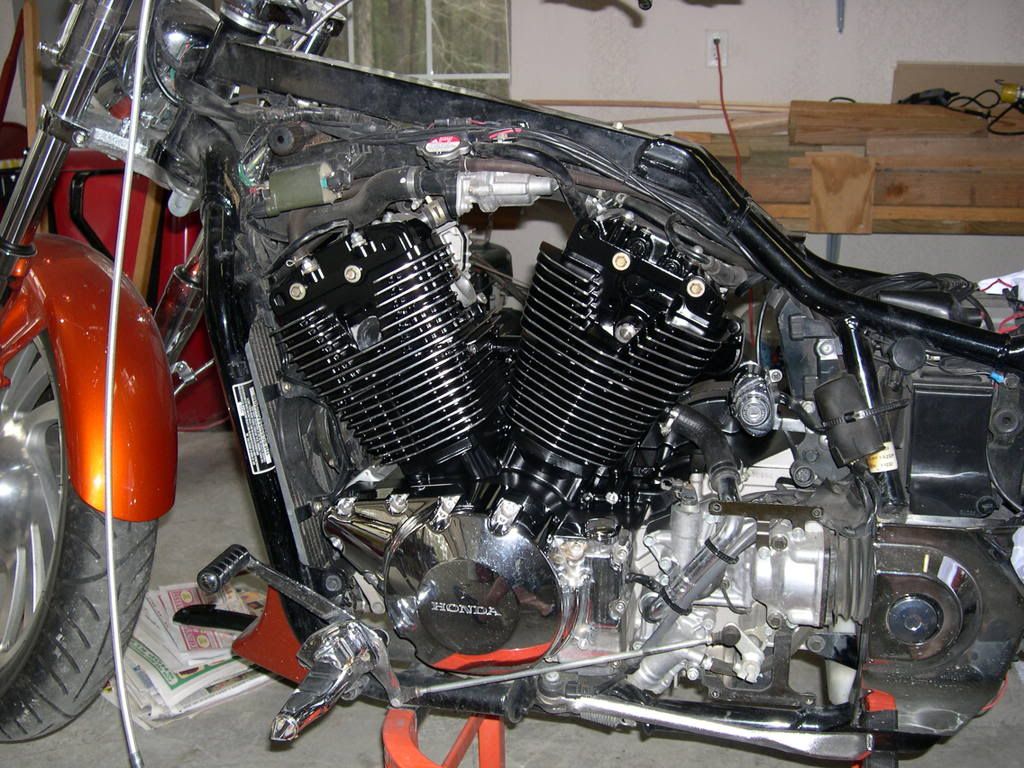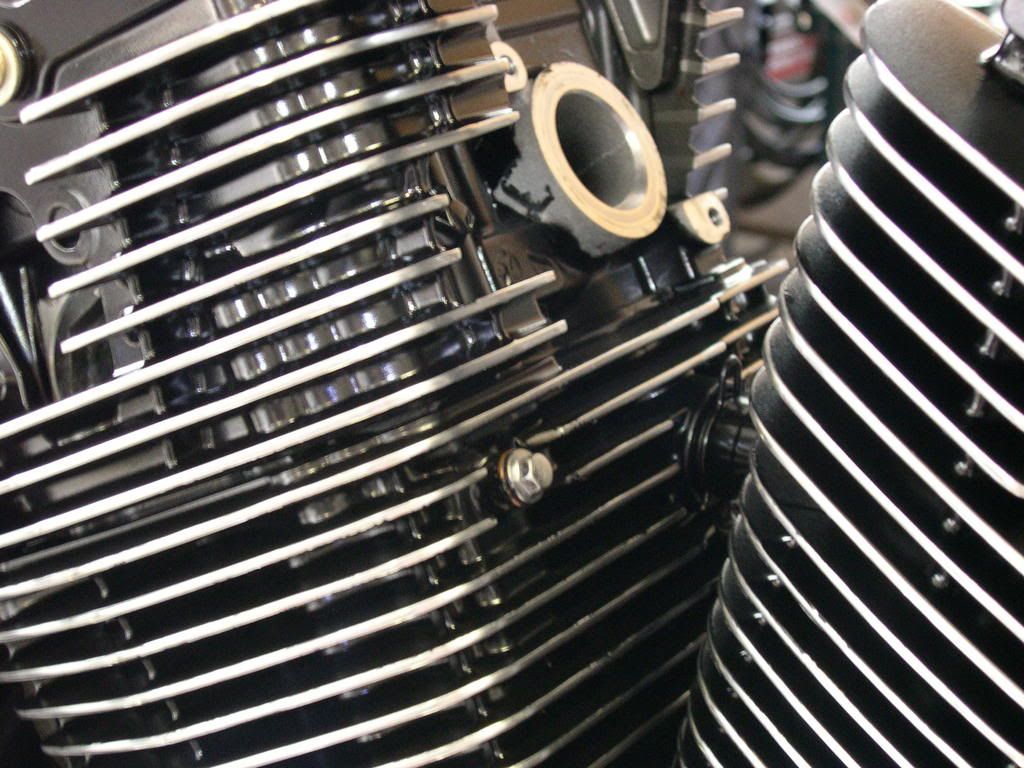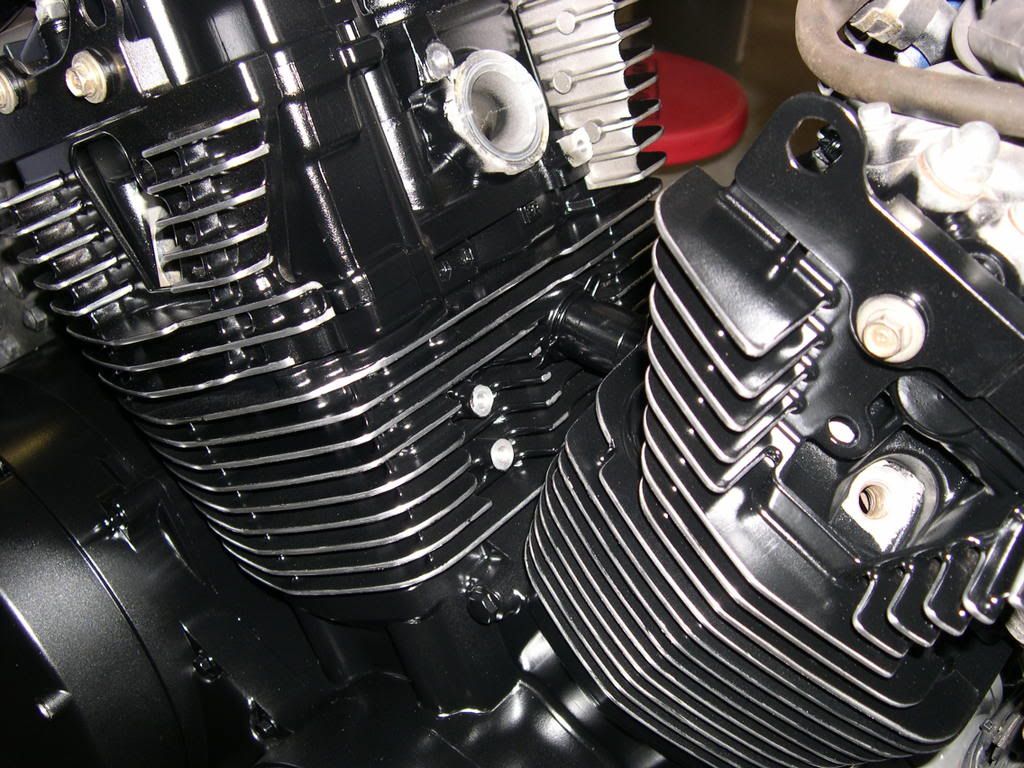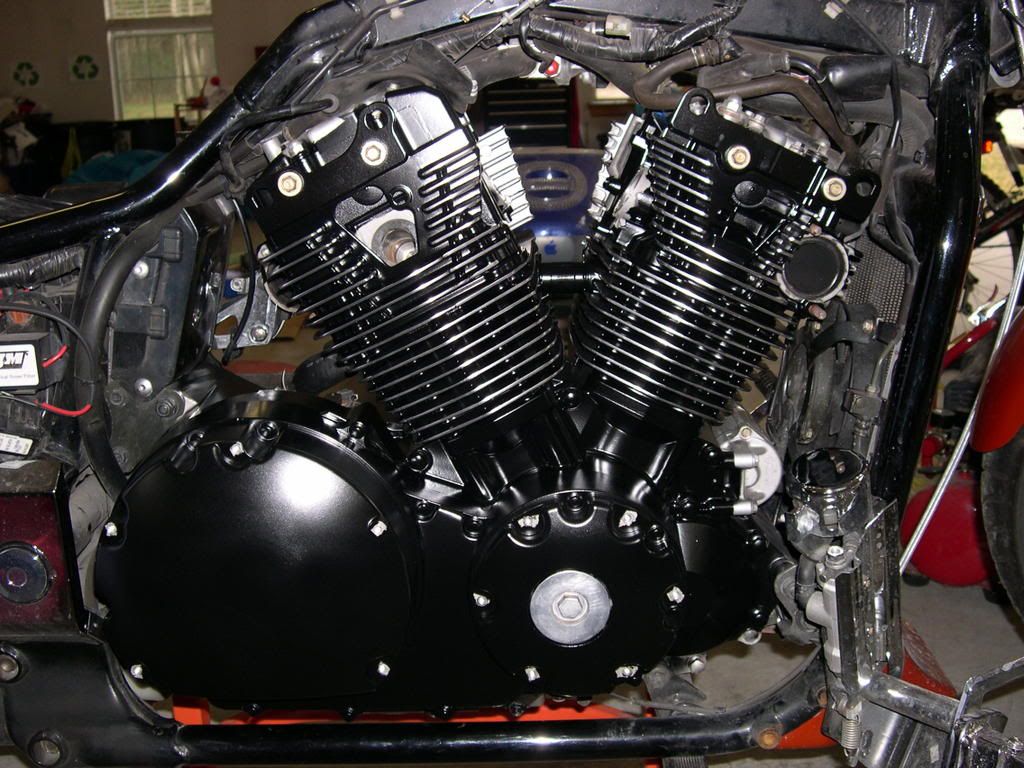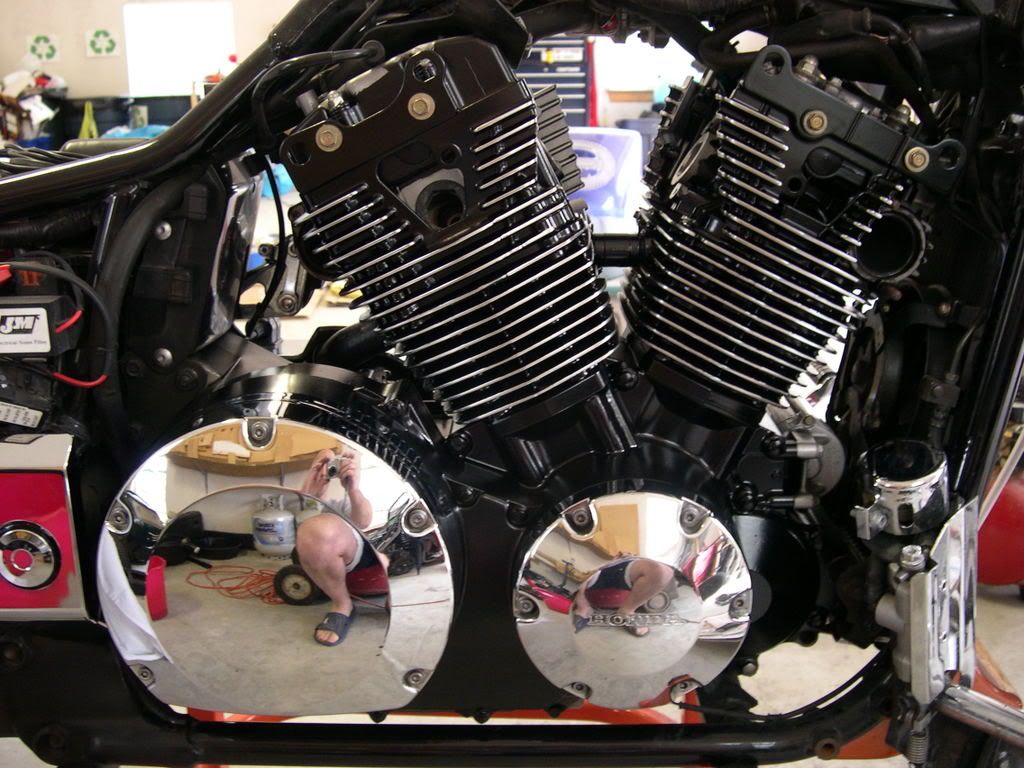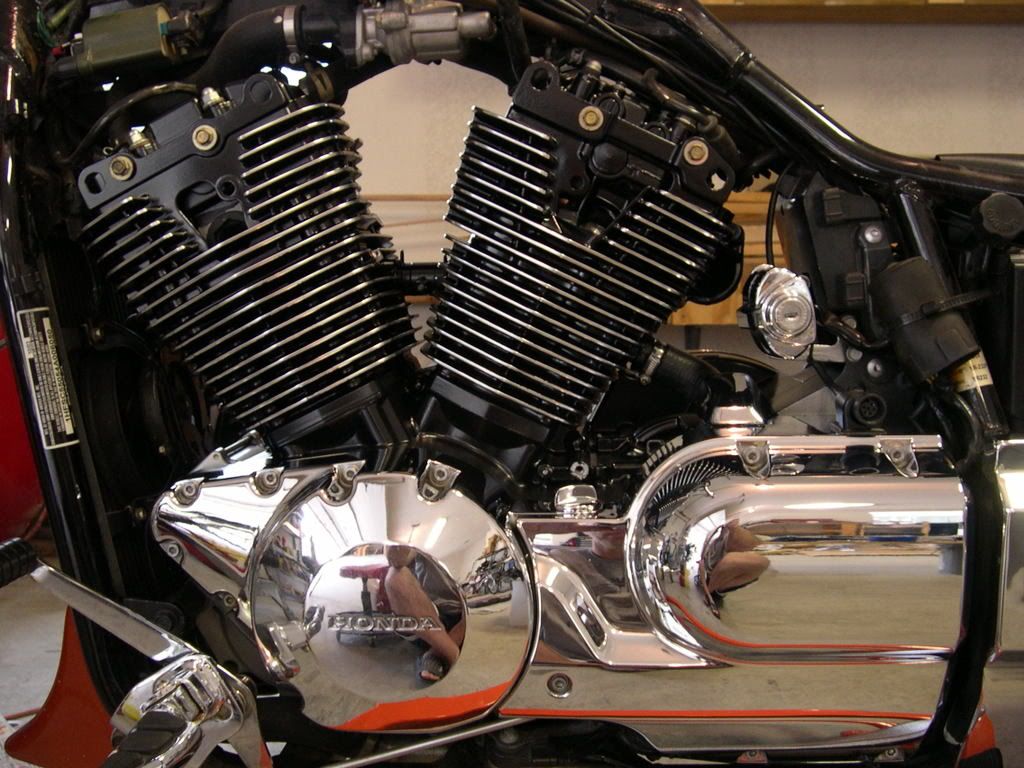 And.....I'm happy! I'll post final pictures after I'm done with all the other crap I have to do to the bike. It'll be another week or so before I get my carb parts in.